2004 Gateway vs. Woodland Hills - Playoff Quarterfinals - Pre-Game Warmup

Back to 2004 Preview / Recaps
Gateway Gators 31 - Woodland Hills 12
Friday, November 5, 2004 - Norwin Stadium, Irwin, PA: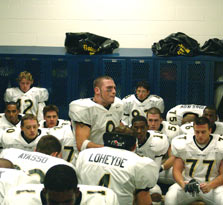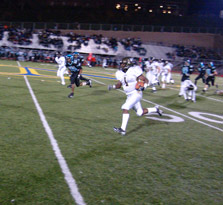 (L) Team Captain Justin Colbaugh inspires the team at halftime (R)Justin King (#1) breaks free on a 70 yard TD run in the 4th quarter.

The Gators handled the test from Woodland Hills and prevailed 31-12. Gators RB Justin King led the way with 22 carries for 215 yards and 4 TD's as the Gators amassed 371 yards of total offense.

The Gators, who won their 10th straight game of the season (10-1), take on rival Penn Hills in the WPIAL Semi-Final next weekend.

10 wins marks the most for the Gators since 1986, the last time the Gators won the WPIAL AAAA championship, when Coach Terry Smith was the Gators QB.




View the 348 game photos in our photo gallery...