Head Coach Terry Smith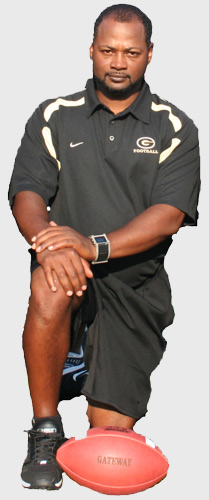 Gateway Graduate - Class of 1987
Member of the 1985 W.P.I.A.L. AAAA Co-Champion Gateway Gators Football Team
Member of the 1986 W.P.I.A.L. AAAA Champion Gateway Gators Football Team
Elected to the Gateway Sports Hall of Fame
Penn State University - (Wide Receiver) - Class of 1992
Coaching Experience
:
Hempfield High School - 1996
Duquesne University - 1997 - 2000
Offensive Coordinator - Gateway Varsity Football - 2001
Head Coach - Gateway Varsity Football - 2002 to Present
Athletic Director - Gateway High School - 2003 to Present
Named to the The New Pittsburgh Courier 2010 Men of Excellence
Congratulations to Terry Smith, who was honored last night (September 30, 2010) by the New Pittsburgh Courier as one of the 50 Men of Excellence class of 2010. These men were recognized for their mark of accomplishment, sacrifice and service in the community. In the words from the Editor and Publisher of the newspaper, "They, too, are resplendent in deed, unselfish in valor, commitment and dedicated purpose. Their individual acts have lifted this city and its people to new heights."

Terry was recognized based on his contribution in the Sports area for producing over 70 scholarship athletes playing collegiate football amongst many other honors. Some other notable honorees were Pittsburgh Steelers Safety Ryan Clark, former Pittsburgh Steeler Lynn Swann, KDKA-TV reporter Harold Hayes, WTAE TV reporter Sheldon Ingram, Wendell Freeland, ESQ and Robert L. Pitts.

Congratulations to Coach Smith for the outstanding job that he does with the kids and in the community.
Gateway - Career Record
:
| | |
| --- | --- |
| 2002 | 9 - 3 |
| 2003 | 9 - 2 |
| 2004 | 11 - 2 |
| 2005 | 7 - 4 |
| 2006 | 6 - 5 |
| 2007 | 11 - 2 |
| 2008 | 12 - 1 |
| 2009 | 12 - 1 |
| 2010 | 6 - 5 |
| 2011 | 9 - 3 |
| 2012 | 9 - 2 |
| OVERALL: | 101 - 30 |
Notable Achievements
:
2002 - Semi-Finals W.P.I.A.L. Playoffs
2002 - Quad South Section Champions
2002 - Quad South Coach of the Year
2002 - Times Express Coach of the Year
2002 - Times Express Citizen of the Year (along with assistant coaches)
2003 - QuarterFinals W.P.I.A.L. Playoffs
2003 - Quad South Section Champions
2004 - Quad SouthWest Section Champions
2004 - 11 game winning streak
2004 - W.P.I.A.L. AAAA Runner-up
2005 - Assistant Coach - U.S. Army All-American Bowl, January 2008
2005 - Quad SouthWest Runner-up
2005 - QuarterFinals W.P.I.A.L. Playoffs
2006 - Quad East 3rd Place (10th seed)
2006 - QuarterFinals W.P.I.A.L. Playoffs
2007 - AAAA Big East Conference Champions - Oct. 26, 2007
2007 - 50th Career Victory (against Kiski) - Oct. 26, 2007
2007 - 11 game winning streak
2007 - W.P.I.A.L. AAAA Runner-up
2008 - Assistant Coach - U.S. Army All-American Bowl, January 2008
2008 - Head Coach - PSFCA WEST TEAM - EAST/WEST ALL STAR GAME - June, 2008
2008 - W.P.I.A.L. AAAA Runner-up
2009 - W.P.I.A.L. AAAA Runner-up
2010 - Quad SouthWest Runner-up
2010 - QuarterFinals W.P.I.A.L. Playoffs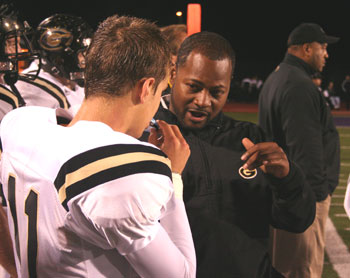 Coach Smith discussing strategy with Freshman QB Robbie Kalkstein on the sidelines during the Plum game Sept. 2006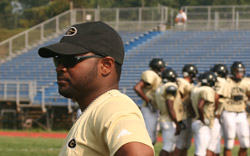 Coach Smith at the Butler Scrimmage, August 2005
Coach Smith discussing a play with WR/QB Charles King at the Butler Scrimmage, August 2005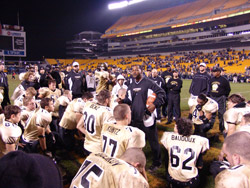 Coach Smith talks to the team following the loss in the 2004 WPIAL AAAA Championship game at Heinz Field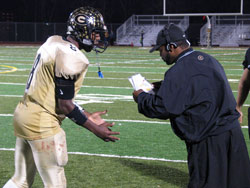 Coach Smith discussing strategy with Mortty Ivy (QB) during the 2003 Ringgold Playoff game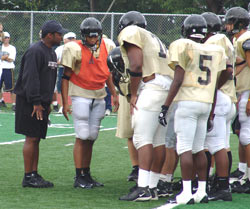 Coach Smith talking to Aaron Smith (QB) and the offense during the 2004 Butler scrimmage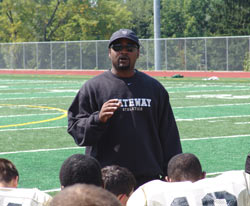 Coach Smith addressing the team after the 2004 Butler scrimmage