2004 Gateway vs. Trinity Area Hillers - Pre-Game Warmup
Gateway Gators 27 - Trinity Area Hillers 17
300th win in team history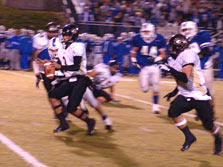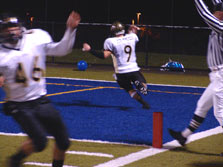 (L) QB Aaron Smith rounds the corner running the option (R) Justin Colbaugh (#9) scores on a 50+ yard run in the 4th quarter to make the score 20-10 Gateway

Friday, October 15, 2004 - Washington, PA:

In a hard fought game played on a windy hilltop in a constant rain, the Gators had to overcome multiple turnovers, penalties, a fired up Trinity team fighting for a playoff spot on Senior night, and Justin King leaving the game early in the 1st quarter due to injury while playing defense. The Gators perservered and defeated a hungry Trinity squad 27-17. The Hillers, who came out pumped up in the 1st half, played a good tough game in the first ever matchup between these two teams, and tested the Gators to the final buzzer. In King's place, Justin Colbaugh (129 rushing yards) and Joe Martin (104 rushing yards) stepped it up and provided a boost to the Gateway offense.

After trailing 10-6 at halftime, the Gators (7-1, 5-0) came out energized in the 2nd half and took the play to the Hillers (3-5, 2-4). Aaron Smith scored on a 1 yard QB sneak 5 seconds into the 4th quarter to make it 13-10 Gators. After Trinity took the ensuing kickoff then was forced to punt, Gateway took over and drove to midfield, where they were stopped and forced to punt. Justin Colbaugh took the direct snap on the punt and ran more than 50 yards for a TD, to make the score 20-10. The Gator defense, who held the Trinity offense in check for almost the entire 2nd half, finally surrendered another score to Trinity on a trick play with about 4:30 left in the 4th quarter. The Gators then took the ensuing kickoff and drove the length of the field behind several nice runs by Joe Martin and scored to make the final 27-17.

The Gators captured their 300th win in team history dating back to 1958.

View the 135 Gators/Hillers football photos in our photo gallery...