2004 Gateway vs. Plum Mustangs - Game Recap
Gators 48 - Plum 12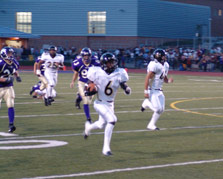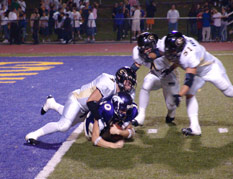 (L) Charles King returns a punt for a huge gain (R)Justin Colbaugh sacks QB Rometo at the 1 with Loheyde and Kwaitkowski nearby

On a spectacular evening in nearby Plum Boro, Justin King had only 7 carries but scored 5 TD's and had 141 yards rushing as the Gators sent Plum to its 10th consecutive defeat. The 1st team O and D played only the 1st half and 1st defensive and offensive series of the 2nd half (minus King who was rested at halftime). The Gators got their last score on a 10 yard QB dash by Freshman Tudor Cisloui. Several spectacular plays were called back by penalty, including an INT by Justin King (called back by Pass Interference) and a 100 yard KO return by Justin Colbaugh (called back by holding).

View the 260 photos in our photo gallery...