2004 Gateway Gators vs. McKeesport Tigers - Recap
Gateway Gators - 2004 Quad Southwest Champs!
Gateway Gators 21 - McKeesport Tigers 9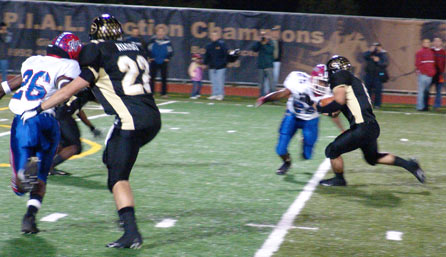 RB Justin Colbaugh - right center - breaks multiple tackles on a 32 yard TD run for the winning TD in the 2nd quarter. Colbaugh's TD proved to be all the points the Gators needed against McKeesport.

Friday, October 22, 2004 - Antimarino Stadium, Monroeville, PA:

The Gators "D" took command of the game and held the highest scoring WPIAL offense - McKeesport, to only 9 points and 194 total yards. Behind 205 yards rushing from four different Gators - Justin Colbaugh (2 TD's), Aaron Smith, Joe Martin and Mike Barlak (1 TD), the Gators, who played without star RB Justin King, won their third consecutive conference title.

"We knew this game was coming down to our defense," Terry Smith said. "We preached it all week and all year that our defense has to win it for us." McKeesport's triple-option offense had been giving opponents fits. But McKeesport finished with only 193 rushing yards and only 73 in the second half. Quarterback Dan Kopolovich finished with 59 on 21 attempts - and only 9 yards in the 2nd half, while Travis McBride gained only 34 on nine carries. "We knew their defense was good," McKeesport coach George Smith said.

The Gators defense played a crucial role in the game, forcing the Tigers several times into turn overs on downs on 4th down, and limiting their high-power rushing attack. After halftime, the Gators clamped down and held the Tigers to only 73 yards offense. "Everyone was saying Justin King was our whole team," Gators OL/DL Matt Houy said. "We wanted to come out and say we're not just Justin." "We wanted to win," Terry Smith said. "I have to make the best decision for Justin King and his health. It wasn't worth the risk for him. I had faith in my guys and they pulled together and rose to the occasion."

The defense set the tone in 2nd quarter, when McKeesport had the ball 1st and goal at the Gators 6 inch line. After consecutive QB sneaks by Kopolovich resulted in no gain, a false start moved McKeesport back to the 5, where they still could not penetrate the Gators end zone, and had to settle for a field goal to make the score 14-9 Gators. Those were the last points that McKeesport managed against the Gators, who held the #1 scoring offense in the WPIAL to only 9 points, down from their 48 points per game average.

Among the individual performance standouts, OL Paul Shulikov played a very strong game in the trenches. RB Justin Colbaugh, who rushed for 60+ yards and 2 TD's, had an incredible 32 yard TD run in the 2nd quarter in which he broke approximately 7 tackles on his way into the end zone. LB Ryan Kwaitkowski had a strong game and made the game saving tackle on 4th down when he made a 1-on-1 tackle of a McKeesport receiver at the McKeeport 23 yardline. That tackle was on 4th down and gave the ball back to the Gators. On the next play, RB/LB Mike Barlak blasted up the middle for a 23 yard TD. Barlak finished with 60 yards rushing.