2004 Gateway vs. Fox Chapel Foxes - Recap
Gateway Gators 68 - Fox Chapel Foxes 0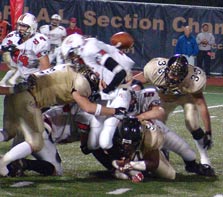 (L) David Williams #10 catches a TD pass (R) Justin Colbaugh #9 CRUNCHES the stomach of Fox Chapel QB Michael Murray, knocking the ball loose. NT Roberto Blanding on the ground has hold of the QB's feet as LB Barlak closes in.

Friday, October 1, 2004 - Antimarino Stadium, Monroeville, PA:
The Gators eclipsed their team record point total just one week after setting it against Latrobe, by shutting out Fox Chapel 68-0. Led by Junior QB Aaron Smith, who had a 6 of 9 for 172 yards and 3 TD passing performance, along with rushing TD's of 1 and 42 yards. Justin King also chipped in with 158 yards rushing and 2 TD's to go over the 1,000 yard mark for the season (currently at 1,123 yards). The Gators improved to 5-1, 4-0 in the conference.

The Gators defense, in pitching their third consecutive shutout, held Fox Chapel to -7 yards rushing and 67 yards passing.

View the 359 Gators/Foxes football photos in our photo gallery...
View the 22 Homecoming photos in our photo gallery...