2004 Gateway Gators vs. Connellsville Falcons - Recap
Gateway Gators 27 - Connellsville Falcons 0
Friday, October 27, 2004 - Antimarino Stadium: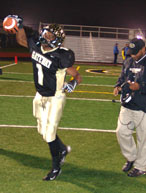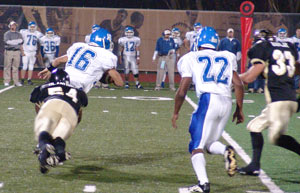 (L) Justin King celebrates breaking the 4,000 yard rushing mark (R)Roberto 'Berto' Blanding goes airborne to sack the Connellsville QB

Gateway, behind Justin King's 68 yard opening play TD, in which he surpassed the 4,000 yard mark, scored all the points they needed 20 seconds into the game as they defeated the Connellsville Falcons 27-0. Justin King had 100 yards on 13 carries as he paced himself back into the lineup with two TD's. QB Aaron Smith threw two touchdown passes, both to David Williams. The Gator "D" held tough and gave the Connellsville offense problems all night long.

The Gators will take on Woodland Hills in the Quarterfinals, Friday Nov. 5. Woodland Hills survived a tough game against Mt. Lebanon, 35-31, in which they turned back a last minute drive by Lebo.

On a sad note, Connellsville QB Nate Feniello suffered a major leg injury late in the 3rd Quarter, in which he had to leave via ambulance. The game was stopped and the teams took to their knees for about 10 minutes as Feniello was attended to on the field. On behalf of Gateway Football, we'd like to wish Nate a complete recovery from his injury.


View the 271 game photos in our photo gallery...