2004 Gateway vs. Latrobe - Game Recap
Gators 62 - Latrobe 0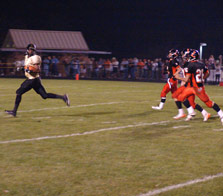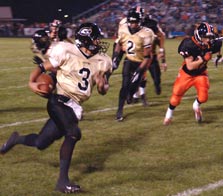 (L) Justin King peeks back at a host of Latrobe defenders on his way to a 60 yard TD run (R) Aaron Smith #3 returns a punt for a large gain

On a record setting night, the Gators rolled to a 62-0 win over Latrobe at Memorial Stadium. Justin King set the all-time Gateway single game rushing record with 15 carries and 331 yards rushing, to go with a 59 yard TD reception and 7 total TD's (6 rush, 1 receiving). King scored on runs of 64, 10, 44, 2, 45 and 75 yards. The 400 total yards in one game is also a Gateway single game record. Aaron Smith passed 4 of 6 for 150 yards and 3 touchdowns, 2 to Soph Jon Ditto. The 62 point victory margin is a Gators team record for most points and largest victory margin. The Gators defense turned in their second consecutive shutout, holding the Latrobe Wildcats to less than 100 yards offense. The Gators racked up 501 yards of offense to Latrobe's 70, and have a 15 game conference winning streak.



View the 321 Gators/Wildcats photos in our photo gallery...